🔎 Tap the Image to see the details
V-Shaped Naturá Slimming Mask
Regain your youth & look 10 years younger within 14 days!
As we get older our skin starts to sag, dry, dull, itchy and wrinkled. Well, as a woman, these things become annoying problems when our face loses its youthful beauty.
We need to find a solution to prevent and cure these facial skin problems. V-Shaped Naturá Slimming Mask can help tighten your face skin and look younger than ever!

It helps to sculpt and tone underneath your chin. This mask wraps around your chin tightly, shaping your skin so it will look slimmer, smoother and firmer
Stretched skin will become firmer and it reduces wrinkles! Not only that, it will help in moisturizing your skin and cure dry skin problems
No More Painful Medical Treatment!
The ingredients are 100% natural and safe from dangerous chemical, people with sensitive skin can use it too!
It is very simple to use. Wash your face clean, hang the mask onto your ears and leave it there for 30 - 60 minutes. (Skin will be in a sweat with warm) then wash your face again with cool water. Use it every morning for 2 - 3 weeks to get the best results. Don't give up too fast!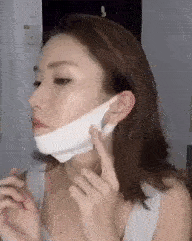 Please noted some customers feel it is too small to wear, however we designed this mask to tighten your facial skin with a tight size not small! After several times wearing this mask you'll feel accustomed and comfortable.
Verified results from our customers
⭐⭐⭐⭐⭐
For just $14.99 to look younger than ever!
Get yours now by clicking PURCHASE
We provide FREE SHIPPING to US and 40% OFF for today's purchase!
#BeautySolution #skyfellastore